Click here to see the original story.
Many of the families of prisoners in a jail in the northwest of Venezuela were notified that at least 35 have died after overdosing on the contents of a jail infirmary they stormed, a Congressman who remained anonymous told BBC News Saturday.
After allegedly breaking into the facility, the prisoners consumed a variety of medicines. In addition to the fatalities, more than 100 are being treated while 20 are in serious condition, according to William Ojeda from the governing Socialist Party. Before breaking into the infirmary, the prisoners were protesting the jail's conditions.
Prison officials told Sky News on Saturday that the inmates had ingested medicines including pure alcohol and antibiotics after storming the infirmary at the David Viloria penitentiary centre in the western state of Lara.
According to BBC, the patients ingested a combination of anti-seizure drugs, insulin, antibiotics and hypertension treatments.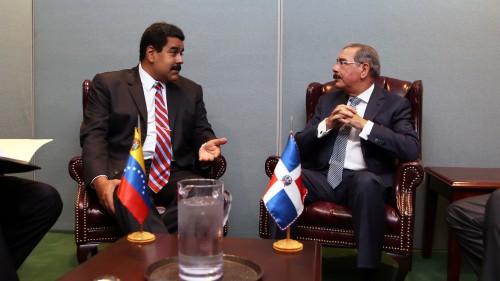 Because Venezuela has the highest crime and homicide rates in Latin America, the caseload for the judicial system continues to pile up as they struggle to investigate and solve the crimes as the prisons are becoming overpopulated as prisoners await trial.
Francisco Vivas, who graduated in May, is living in his home town of Monagas, Venezuela, before he returns to go to Suffolk Law School next fall to become a lawyer in criminal law.
"Here in my country, the situation about the government is very complicated because all the government officials, such as the president and vice president, participate in monopoly and corruption," said Vivas. "Because of this, it makes it difficult to investigate any type of crime."
According to BBC, during the time of the ingesting of the substances, other inmates were participating in a hunger strike, which had caused a riot. However, Sky News reports the prisoners were protesting the inhumane treatments prisoners went through at the hands of the prison staff.
After the staff took control over the revolt, the handcuffed inmates were forced into the morgue to identify the 35 bodies.
Despite what Ojeda reported, relatives of the inmates have stood outside the prison, accusing the warden of poisoning the inmates, while anxiously waiting to hear if their loved ones were among those dead. The chief prosecutor's office commented to BBC, saying that they were interested in looking in and questioning the prison director because of the deaths.
According to reports from Sky News, the penitentiary center has a capacity of 850 inmates, but is currently housing 3,700.
Many prisons in Venezuela are currently occupied by armed inmates, with security having little or no control over the prisoners, the nongovernmental organization Venezuelan Prisons Observatory said to BBC. According to Sky News, the chief prosecutor office of Venezuela plans on filing charges on one of the staff members over the deaths.