Click here to see the original story.
It has been six months since hostilities between Israelis and Palestinians in Gaza have ceased, but the Gaza Strip has grown worse as thousands remain displaced and  violence has increased.
After "Operation Protective Edge," where Israel launched a military operation, Hamas was severely weakened and achieved none of its demands, according to a statement Palestinian President Abbas said to the Washington Post.
The Gaza Strip has been occupied by Israel since 1967. In the U.S., many think the media is biased in favor of Israel to have the right to occupy the country. However, Yasmeen Hamdoun, a member of Students for Justice in Palestine on campus, thinks otherwise.
"I'm not Palestinian, but I'm an Arab who stands for human rights for anyone," Hamdoun said. "After learning about the reality in Palestine, I began to research more and had the passion to spread awareness of the side you don't hear in the news because of the U.S.'s political interests and lobbies that pressure news companies to suppress the truth."
Hamdoun resorted to independent news outlets to receive information on the aftermath of the bombings in Palestine.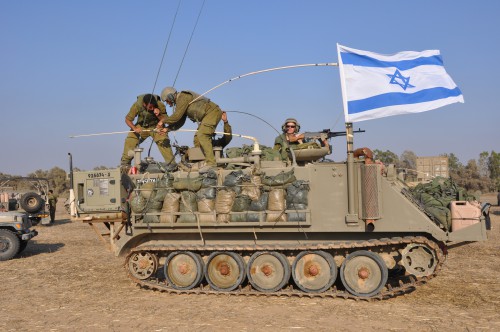 Reconstruction of the tens of thousands of homes that have been destroyed in the war have barely begun. According to predictions by The Washington Post, at the rate the country has been going so far, it will take decades to rebuild what was destroyed six months ago.
One of the problems lies in the country's economy. Billions of dollars in aid have yet to be honored that were donated from countries across the world, including the U.S., according to the Post.
Many Palestinian sympathizers believe the Israeli government is holding onto the donations, as they have Hamas security forces still exerting control on their side of the three trade and travel crossings, which are between Egypt, the Gaza Strip, and Israel, according to the Post.
"Israel is choosing to withhold at least 127 million dollars worth of tax revenues that they collect on behalf of Palestine," said Hamdoun. "Israel is doing so in response to Palestine's decision to sign the Rome Statute of the International Criminal Court, which investigates war crimes in situations where states are unable or unwilling to do so. Israel does not want this to happen, which only exposes their guilt and fear. Israel HaYom said Israel will continue to withhold the tax money until the 'completion' of Israel's punishment on Palestine for calling on the ICC."
Throughout Gaza City, banks have been repeatedly hit by explosives by an unknown source of attackers, according to multiple news sources.
Abbas said to the Post that he and his government see the strip as "a dirty diaper. No one wants to touch it."
Palestinian sympathizers, such as members of Students for Justice in Palestine, say it is not the first time Israel has held certain donations from Gaza.
"The U.S. backs Israel's decision, which isn't a surprise given their historical support for Israel in the form of financial aid and political backing," Hamdoun said. "The U.S.'s reason for supporting Israel's condemnation of the ICC move [is that] Palestine is not a state and only states can ask for investigation from the ICC. The idea that Israel is not allowing donations or building materials into Palestine needs to be taken into context. This is not a one time occurrence."