Click here for the original story.
President Obama told his administration this month to start to increase the number of Syrian refugees the U.S. accepts each year for resettlement to 100,000 each year, according to The New York Times.
Clinical Professor of Law and Director of Clinical Programs Ragini Shah founded Suffolk's first immigration clinic and feels as though this number is too low, especially for something she calls "an enormous humanitarian crisis" as these people "have been subjected to supreme forms of violence."
"I think the administration should be thinking in higher terms," said Shah.
After increasing pressure for the U.S. to join the European Nations, President Obama has increased the number of accepted refugees starting early October, said White House Press Secretary, Josh Earnest, in a briefing.
The pressure was shown in a letter to Obama from nongovernmental organizations, including Refugee Council USA, which is based in Washington.The council consists of about 20 faith-based organizations that focus on refugee protection.
The letter was uploaded in a PDF by Al Jazeera.
"The United States' rising to the occasion now would both encourage European nations to live up to their refugee protection obligations and help to prevent further deterioration in the protection climate in the countries bordering on Syria that are currently hosting millions of Syrian refugees," the letter said.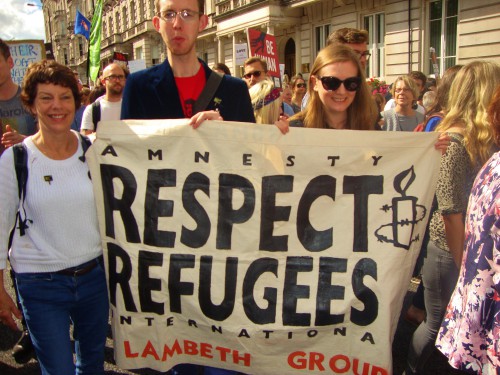 Since the announcement, there are mixed feelings on the decision. Many aid groups find this as a "token," according to The New York Times, while many Republicans see this as terrorists coming into the country after Syria's fifth year in its Civil war.
Republican Representative Peter T. King told the New York Times that he was disgusted with the decision, unnerved that the country is inviting Islamic terrorists in and worried about filling the country with the enemy.
"We don't want another Boston Marathon bombing situation," King said to the New York Times.
Shah was confused as to why King would make such a statement.
"I don't know what the connection is between the people fleeing King al-Assad to the Boston marathon bombing," said Shah. "It's not a comparable situation."
Earnest explained in the briefing that the people who wished to come to the U.S. would have to apply through the United Nations, and there would be extensive medical checks and an intense background checks.
"Refugees have to be screened by the National Counterterrorism Center, by the F.B.I. Terrorist Screening Center," said Earnest. "They go through databases that are maintained by D.H.S., the Department of Defense, and the intelligence community. There is biographical and biometric information that is collected about these individuals."
Shah brought up when there were refugees from Vietnam that were brought into the U.S. after the war, the last time a flow of refugees came into the country for resettlement.
"One thing I will say, is the president has the authority to set the number of refugees," said Shah. "Because in the past 30 years, we really haven't taken any."